I participated in Amazon x Adobe creative jam with Padmaja Kothari & Twisha Shah! In 167 hours, the task was to design an iPad app for high school students (13+) to prepare the next wave of designers for promising careers in tech. We designed, Creativo, an extensive educational app that equips students with resources to learn, create, and unleash the creative in them!
Project For
Amazon + Adobe Creative Jam
Amazon is committed to creating and leading programs that will inspire and prepare the next wave of designers for promising careers in tech.
Your challenge: Design a tablet app (Android, Fire, iPad, etc) to provide a safe way for high school students (ages 13+) to #DiscoverDesign.
How do high school students interact best with technology?
Will the students use these apps themselves or with their peers, friends, and parents?
How do we create an experience that gets high school students excited about the tech-design field and potential careers in design?
How to make this app more user friendly and resourceful than the other educational apps out there?
We started with the competitor analysis to learn more about the existing educational apps and tested them for their shortfalls. We also started interviewing our younger cousins who were in that age group. Based on their feedback and our own experiences, our key takeaways were:
To make an educational app engaging, it should let students connect with their peers
Students needed resource to learn new skills, learn about colleges and careers
Students wanted to look for design competitions and scholarships
We thought that we could bridge this gap in the current market by introducing an extensive resource app that is easy to use, has the ability to connect with friends, and has all the required information in one place. We wanted to add as many categories as possible without making it overwhelming by using bright & friendly colors.
Our scope was mainly limited to coming up with a relevant, creative prototype that addressed the brief with a consistent, clear visual language that spoke to the target audience.
The biggest constraint to this project was that we only got a week to research and design the complete app prototype while our college was still in session. We alternated our sleeping schedule to balance our college work and create a meaningful app at the same time. The first three days were spent on ideation and research, and two days were spent on designing and prototyping the app, while the remaining time was spent on testing and improvement.
'Creativo' is an educational tablet app that aims to help High school students discover the field of Tech Design. The app is color blind safe, and the quick tour feature at the start makes the app user-friendly and intuitive. Quite often, students are told by their families that Tech Design is more of a hobby and not a job. This app will break that stereotype and help them find the right creative field for them using the 'Courses' and 'Career' features. Our 'Explore' feature will introduce them to different trends and inspire them to start their creative career. The 'Arcade' feature enhances their problem solving and analytical skills. Since competition drives the youth, they will be able to challenge their friends as well. More importantly, the games touch upon good and bad design. Lastly, the 'Student Work' feature enables them to share their story and win college scholarships.
Ideation
User Persona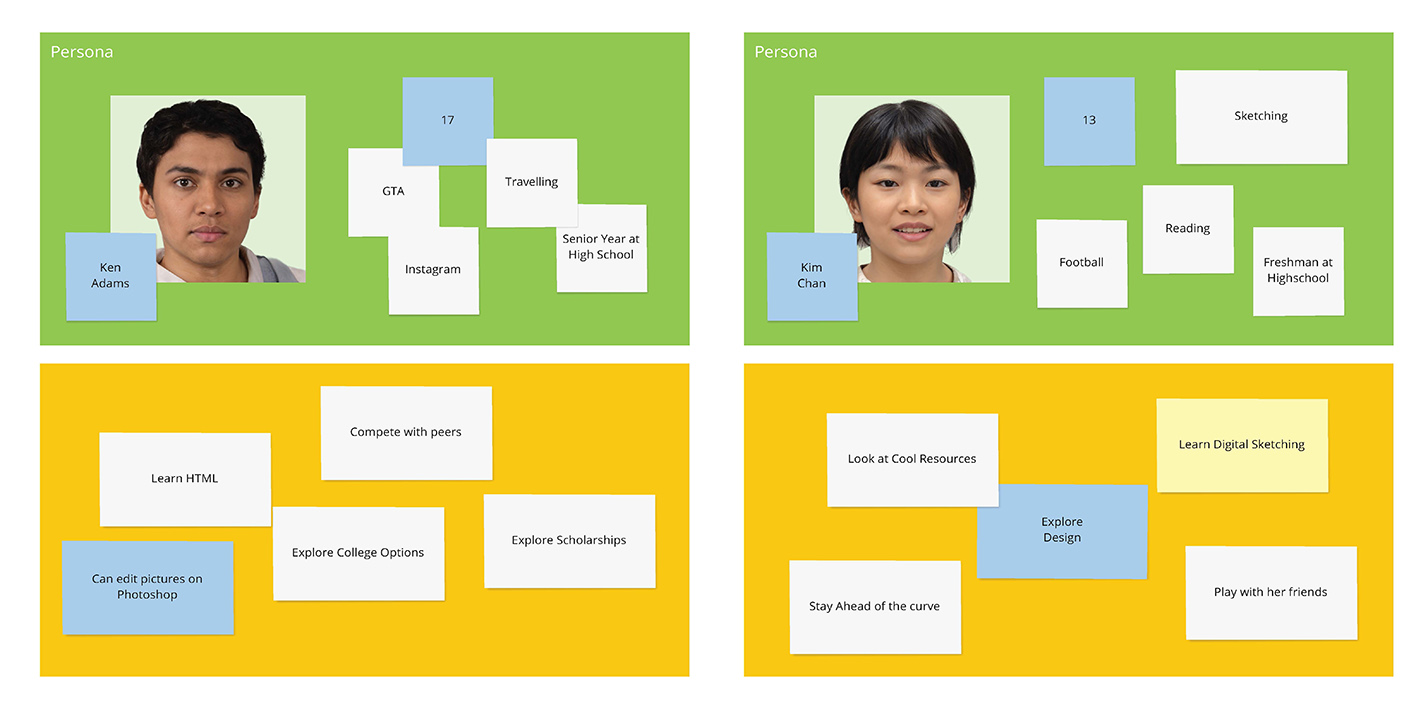 Information Architecture